A Tale Gathered In the Field
Bayview Elementary – Indigenous Education
"The relationship to land and place is deeply rooted in First Peoples' cultural perspectives; living and learning is inextricably tied to sense of place, and connection to the land itself. Traditionally, in addition to the learner's family and community, the place in which they live, and the land that supports that life, provide the context and source for teaching and learning. The community and natural environment are regarded as the "classroom".
~ First Peoples Principles of Learning website
I've been thinking about this quote quite a bit during this time of being at home. What does learning about Indigenous ways of knowing and being look like and extend into home and community? 
We have been given this opportunity to slow down, quiet our minds, and connect/reconnect with ourselves, each other, and the world around us. Being at home with my toddler has reminded me about the natural curiosity and wonder of life and the world (plant, animal, insect, marine, etc.).
Looking at the world through another person's eyes (toddler, child, teen, adult, elder) reminds us of the diverse perspectives and ways we understand and interact with the world. Each perspective and experience helps us to come to know who we are (individually and collectively) in relation to each other and the natural world.  To me, being curious, vulnerable, humble and open to what we have to learn from others (humans, plants and animals) is the heart of Indigenous ways of knowing and being. What are we learning about ourselves? Each other? Students? Families? Communities? 
During this time of learning from home, Jaime Stephens (Gitxsan, Indigenous Education Support Teacher – Bayview Elementary) has been engaging teachers, students and families in land education and pedagogy of place.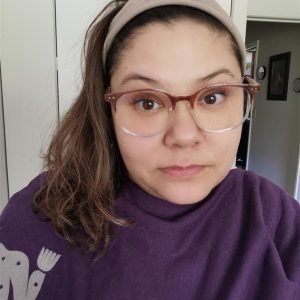 One of Jaime's learning assignments encourages students to create a sound map – a visual representation of what they hear. This idea came from her experience in her teaching program's outdoor education class. Jaime wanted to build upon the idea of sound maps and weave in Indigenous connections. She wanted to take the idea beyond connecting it to science and adapt it to fit within and infuse Indigenous ways of knowing, learning and values.
Jaime shares that creating a visual representation of what you hear "connects to the concept of Sit, Watch, Listen (SWL)  in Indigenous Education…SWL encourages us to be present without distractions and listen to the world around us." Jaime encourages students to do the sound map activity with a partner so that they could compare their representations afterwards. "It is important for kids to understand that we have different experiences and these experiences impact how we are going to interact with those around us."  
I encourage you to check out Jaime's Sound Map lesson here. Find another person to do this with. Compare your visual representations. When you slow down and just listen, what do you learn about yourself? What do you notice? What do you learn about another person and how they experience the world?